Access to the Port, Airports and Railroads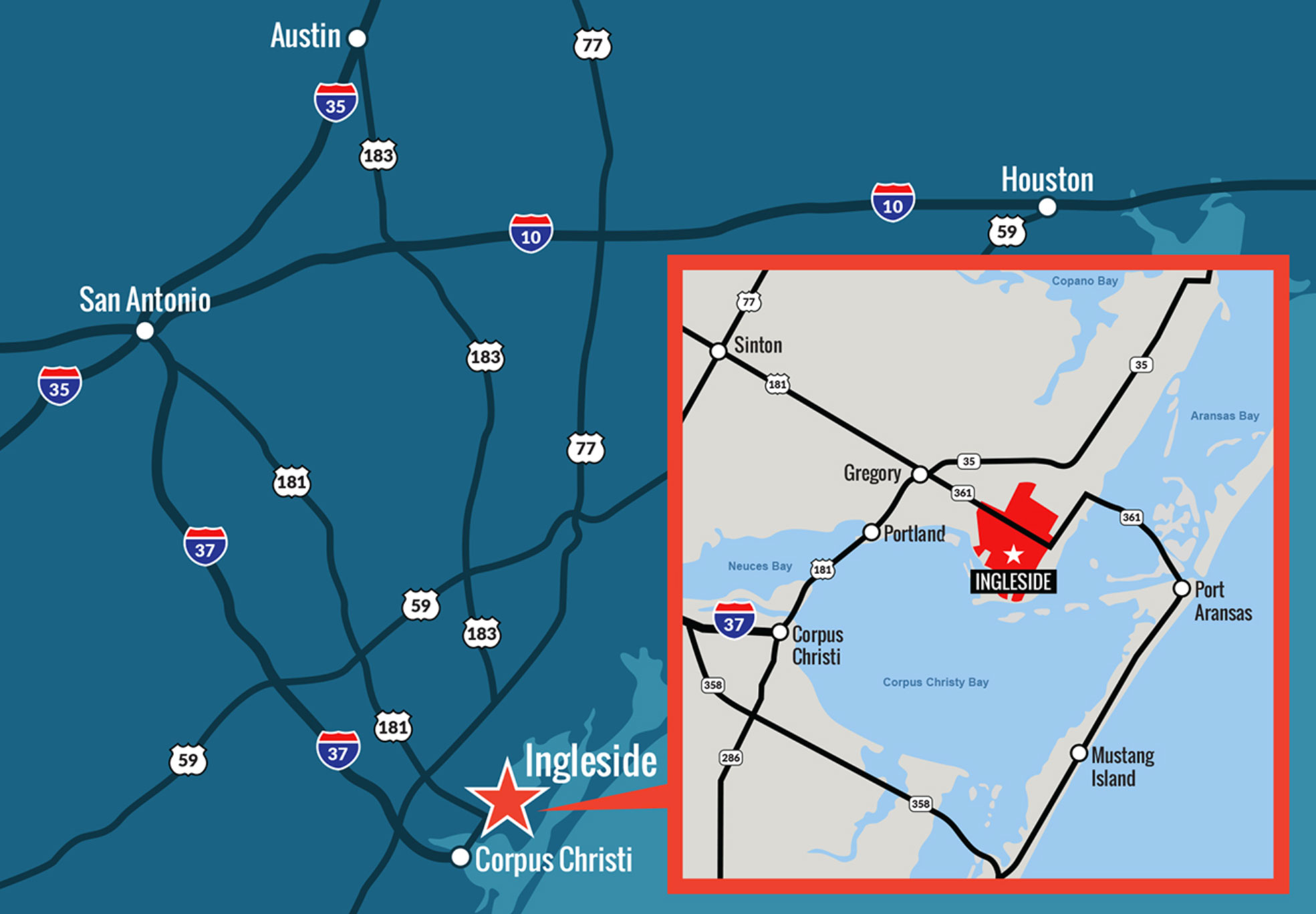 Ingleside businesses benefit from access to the Gulf of Mexico through the Port of Corpus of Corpus Christi on the western Gulf of Mexico. With a 36-mile, soon to be 54 ft MLLW deep channel, the Port of Corpus Christi is a major gateway to international and domestic maritime commerce, with railroad and highway network connectivity via one North American Class-1 railroad and two major highways. In addition, businesses have access to two airports within 25 minutes.
Multi-Model Transportation
Highways
Ingleside's two main arteries, SH-361 and FM-1069 handle the existing industrial and commuter traffic. Both SH- 361 and FM-1069 meet up with US 35. Corpus Christi and surrounding area commuters working in our industrial plants comprise a substantial amount of our traffic counts.
La Quinta & Jewell Fulton Channels
The La Quinta Ship Channel, a soon to be 54-foot deep full service ship channel, brings materials to our area industrial partners, who in turn, ship out manufactured goods to the world. The Jewell Fulton Canal, is slated for additional dredging and can presently handle smaller vessels.
The Port of Corpus Christi
Ingleside is proud to partner with the Port of Corpus Christi. This, the third largest Port in the world, is a huge economic engine for the entire area. Ingleside's industrial partners work closely with the Port to ensure safe and efficient passage of ships in and out of Ingleside. Our association with the Port helps Ingleside remain an area of worldwide commerce. The Port of Corpus Christi is also the nation's leading energy export gateway and Ingleside's own Moda Midstream is the #1 customer for exports through the Port.
T.P. McCampbell Airport
Located in Ingleside, the T.P. McCampbell Airport offers:
Over 7000 square feet of hangar space in the Terminal Facility
Fuel Truck for fueling Jet fuel aircraft
Wireless Internet Provider for flight planning and worldwide weather
Automatic Weather Observation System for Weather at the Airport
Instrument Approaches for Runways 13 & 31
24000 gallon capacity fuel farm
Flight school in operation
Corpus Christi International Airport
Located 25 minutes away, just west of Corpus Christi, this airport offers flights on American, Continental, and Southwest Airlines. This full service airport services the entire Coastal Bend area.
Rail
Ingleside has been home to Union Pacific for over a hundred of years. In the early days, Ingleside was a major grower of produce that was sent by rail throughout the state and beyond. Today, Union Pacific services our industry partners bringing materials and sending out finished goods for sale worldwide.